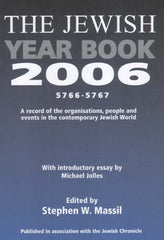 Jewish Year Book 2006
Edited by: Massil, Stephen W.
The Jewish Year Book 2006 provides a comprehensive directory of the communal institutions and organisations that make up the fabric of British Jewish society. It is a guide to the structures and networks of the religious, social, educational, cultural, and welfare organisations of the Jewish community across the British Isles and reports the ever-changing pattern of websites, now such a pervasive feature of communal management and presentation. It also offers an extensive guide to the primary organisations of the Jewish communities of the world and a substantial survey of Israel and its organisations that have associations with British Jewry, including a comprehensive list of Israel's overseas embassies and missions. It sets out the basic facts of the history of Jewish settlement in Britain and an up-to-date statement of UK legislation specifically concerned with the place of the Jews and Jewish identity in Britain. Updated annually, edited to provide the latest, up-to-date information, it includes contact details for Jewish institutions, local and international organisations, details on leading Jewish personalities, obituaries, and major events as well as principal festivals and fasts. There is also a detailed calendar, including the Jewish calendar for thirty years and evening twilight regional variations.
---
348 pages
Copyright: 1/30/2006