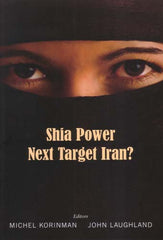 Shia Power: Next Target Iran?
Edited by: Korinman, Michel; Laughland, John
This book, the first in a new series from the Daedalos Institute of Geopolitics in Cyprus, asks whether Iran has pretensions to become the leader of the Muslim world, and it poses the following questions: Does the Islamic Republic intend to acquire a nuclear bomb? What is its energy policy and how does the world's need for hydrocarbons bolster the country's geopolitical position? What does the election of Mahmoud Ahmadinejad mean for the factionalism and power struggles of Iranian politics? What is the relationship between the clergy and the 'neo-conservatives' who now control the presidency? What are Iran's relations with the other great powers, especially Russia and India? This volume contains incisive commentary from the world's leading experts on this, one of the planet's most intriguing and mysterious states. It is a key source of reference material on a country which is seldom far from the center of world affairs.
---
373 pages
Copyright: 3/1/2007