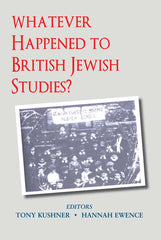 Whatever Happened to British Jewish Studies?
Edited by: Ewence, Hannah; Kushner, Tony
This wide-ranging collection of essays investigates the current position and purpose of British Jewish studies in the modern age. Taking the post-1880 period as its focal point, the book adopts an innovative approach that brings together trans-disciplinary, historical, and cultural perspectives viewed through the prism of the local, national, and global. The book's approaches range from literary criticism, cultural studies, oral history, legal studies, history, memory, and heritage research. Using this range of methodologies, the essays open up and drive forward this pertinent area of enquiry. The book is accessible to a wide readership, and, underpinned by an intellectually and theoretically rigorous agenda, it will provide a fruitful area of study for academics.
---
416 pages
Copyright: 1/1/2012