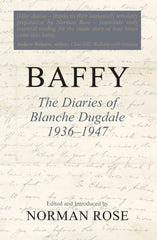 Baffy
The Diaries of Blanche Dugdale, 1936–1947
Norman Rose (Ed)
Granddaughter of a duke and niece of a prime minister, Blanche 'Baffy' Dugdale was in an ideal position to observe British political and social life, before, during and immediately after the Second World War. She had a sharp eye for the telling detail and the diarist's knack of asking the right question of everyone she met. A passionate and hardworking Zionist, her diaries – thanks to their immensely scholarly preparation by Norman Rose – constitute truly essential reading for the inside story of how Israel came into being.
Andrew Roberts, author: Churchill: Walking with Destiny

Blanche Elizabeth Campbell 'Baffy' Dugdale, of aristocratic lineage, was Arthur James Balfour's niece and his official biographer. She was also a lifelong friend and confidante of Chaim Weizmann, the world-renowned Zionist leader, and later first President of the State of Israel. Privy to an abundance of top-drawer political contacts, 'Baffy' straddled both these worlds, that of the idiosyncrasies of upper-class English politics, and that of a resurgent, at times uncompromising, Jewish nationalism. In this manner, Baffy, playing a behind-the-scenes role, witnessed, and with shrewd insight, commented upon, some of the most dramatic events of the years her diaries cover, 1936–1947. Little of consequence escaper her discerning eye: the Abdication crisis; the Peel partition proposals; the Munich agreement; the May 1939 White Paper; the course of the war and the first news of the Holocaust; the post-war struggle for a Jewish state; and finally, and for Baffy triumphantly, the establishment of the State of Israel.
These are some of the tumultuous events Baffy recorded in her detailed, pertinent, and often provocative style. Her diaries offer us a document of genuine historical interest, granting us an invaluable insider's glimpse into the controversial world of politics, domestic and international.
---
Paper 268 pages  16 black and white illustrations

Copyright: 16/6/2021