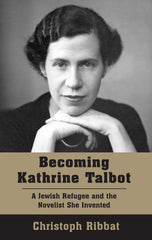 Becoming Kathrine Talbot
A Jewish Refugee and the Novelist She Invented
Ribbat, Christoph

Christoph Ribbat's remarkable book is a creative biography and literary retrieval of Kathrine Talbot, née Ilse Gross ... It will make everyone who reads it reconsider what they believe they know about the lives of refugees, and rush to find copies of Talbot's fiction.
Professor Sue Vice, University of Sheffield

Drawing extensively on previously unpublished memoirs, diaries, and letters, this beautifully told account of a courageous life will linger in your memory.
Thomas Travisano, author of Love Unknown: The Life and Worlds of Elizabeth Bishop

In 1935, when she was fourteen years old, Ilse Gross fled Germany. Alone. Seventeen years later, she published her audacious first novel Fire in the Sun. Her pen name: Kathrine Talbot. Her German Jewish identity she carefully concealed.
Becoming Kathrine Talbot explores the life of a refugee who lost her parents and sister in the Holocaust and who resisted telling their stories until it was almost too late. Only at the end of her life did she turn her family's fate into prose.
Christoph Ribbat follows a nearly forgotten 20th century novelist from an Isle of Man internment camp to postwar Cornwall, New York, and California, and then to a green hill in Sussex. She marries English painter Kit Barker and clashes with macho bohemians. She rises to literary fame and comes back down to obscurity. As Ilse Barker, she shares a close friendship with American poet Elizabeth Bishop. In their extraordinary letters the two women cover everything: from the mundane to the traumatic.
Becoming Kathrine Talbot fuses literary biography and concise accounts of the German Jewish refugee experience in Britain. To scholars in Jewish studies, modern fiction, and life writing, this book offers an original case study. To a general audience, it presents an engrossing tale of creativity, joy, and pain.

---
130 pages  15 black and white illustrations  paperback

Copyright: 02/05/2024