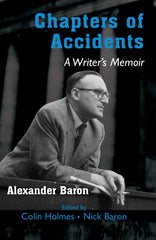 Chapters of Accidents
A Writer's Memoir
Baron, Alexander 
Colin Holmes and Nick Baron (Eds)
Alexander Baron ... was the greatest British novelist of [World War II] and among the finest, most underrated, of the postwar period.
John Williams, The Guardian

'We have waited a long time for this war's All Quiet on the Western Front', wrote the critic V.S. Pritchett. 'Here it is.' He was reviewing the 1948 novel From the City, From the Plough by Alexander Baron (1917–1999). With its success, Baron became a full-time writer. His best-known later novels include The Human Kind (1953), The Lowlife (1963), and King Dido (1969). Between the 1950s and 1980s he also wrote many film and television scripts.
In Chapters of Accidents Baron vividly recounts the experiences of his childhood   and youth that shaped him as a writer and provided subject matter for many of his novels. It evokes the sights, sounds, and aromas surrounding him growing up in a Jewish family in Hackney, East London, in the 1920s. Later, aware of the rising fascist threat, Baron was drawn to left-wing politics, becoming a leader of the Labour Party's youth organisation. Although never formally a member, he also worked secretly for the Communist Party as an organiser and propagandist. His life changed again with the outbreak of the Second World War.  A keen soldier, he served as a Pioneer and then infantryman in Sicily, southern Italy, and – from D-Day onwards – in western Europe. After a difficult transition to post-war life, he worked in London at Unity Theatre and as the editor of a monthly cultural magazine while writing his breakthrough novel.
Chapters of Accidents is the dramatic and affecting memoir of a novelist, political activist, journalist and soldier, a prominent figure – though sometimes overlooked – in mid-twentieth-century British cultural history. It includes an Introduction by Colin Holmes, explanatory footnotes, an appendix, and numerous illustrations.

---
Paperback  330 pages 41 black and white illustrations

Copyright: 21/09/2020