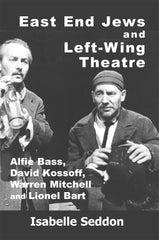 East End Jews and Left-Wing Theatre
Alfie Bass, David Kossoff, Warren Mitchell and Lionel Bart
Seddon, Isabelle
This is a wonderful book that places these Jewish artists in a historical-cultural context. This is not only a British story, but a much wider Jewish one for which Isabelle Seddon provides many interesting insights.
Colin Shindler, The Jerusalem Post

This is a fascinating, well written and well researched volume. ... It is replete with fascinating insights into the family and private lives of these well-known 'Cockney-Jewish/Jewish-Cockney' individuals.
Dr David Dee, Associate Professor in Modern History, De Montfort University, Leicester

Alfie Bass from the Lavender Hill Mob, David Kossof, star of stage, screen and radio, Warren 'Alf Garnett' Mitchell and Lionel Bart, who wrote the theme to Moonraker and numerous show tunes like Food Glorious Food from Oliver, all started their careers at London's Unity Theatre. Here Isabelle Seddon examines their careers and what influenced the creation of their Jewish Cockney personnas.
Jews have played a hugely important role in the entertainment industry, including in the United Kingdom. This book is the first study of second-generation Jewish immigrants from Eastern Europe who took part in left-wing political theatre in Britain during the first half of the twentieth century. It explores how the seeds were sown in the East End of London producing those of the calibre and global significance of, amongst others, Alfie Bass, David Kossoff, Warren Mitchell and Lionel Bart.
First they joined the innovative and radical Unity Theatre, which contributed greatly to British drama and not just that of the left. These men became famous for their 'Cockney' persona. The book explores the remarkable changes that occurred during the interwar period, which despite antisemitism including in its organised fascist form, enabled their confidence to identity as Jewish Cockneys in the post-war era and to be accepted as such in non-Jewish society.
This study thus provides a unique insight into the Anglo-Jewish community and the British entertainment history through the twentieth century using concepts such as class, race, religion, gender and performance throughout.
---
208 pages  17 black and white illustrations

Copyright: 12/03/2020 New in Paperback 17/06/2021