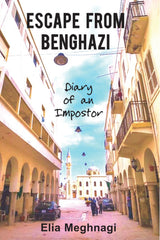 Escape from Benghazi
Diary of an Imposter
Meghnagi, Elia 

Meghnagi takes us on a cultural and political tour of Benghazi and its Jewish community in the twentieth century under Italian, British and Arab regimes. In doing so he reveals with a masterful and at times funny touch his personal story as a boy growing up in Benghazi, and how he escaped to study in the UK rebuilding his personal life.
Professor Maurice M. Roumani, Ben-Gurion University of the Negev

The last time Elia Meghnagi saw his childhood home in Benghazi, he was only seventeen years old. A member of the endangered and fast-shrinking millennia-old Jewish community of Libya, in 1958 Elia was forced to flee, finding refuge in Cambridge as a foreign student. It would be years before he saw his parents and siblings again.
Always one to rise to a challenge, Elia built a new life for himself in England, finding friends, community, lasting love, and a career in telecomms engineering that would take him across the globe to such far-flung places as South Korea and Mexico, until—missing too much of life with his growing family back home—he swapped his high-flying career for one, no less challenging, in the kosher food business.
In this fascinating memoir, Elia looks back on his action-packed life as a square peg in a round hole. Full of nostalgia for his native land and pride in his Sephardi roots, he carries us to the sun-drenched streets of Benghazi and introduces us to its vibrant culture and history, before sharing with us the ups and downs of life as a foreign student and refugee and, eventually, a citizen, in England.
Clear-sighted, compassionate, and often humorous, Elia introduces us to a wide array of the fascinating characters he has met, and the challenging situations he has faced. Perhaps most profoundly, in a narrative suffused with wonder and optimism, Elia shares his experience of fitting smoothly into other cultures while never compromising on his own religious principles or practice.
---
220 pages 49 illustrations

Copyright: 20/07/2022