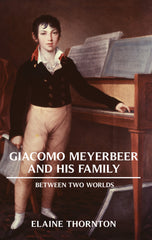 Giacomo Meyerbeer and his Family
Between Two Worlds
Elaine Thornton
Thornton provides a pithy family biography of the well-known Berlin Beer family that illuminates the paradoxical situation between enlightenment and antisemitism that Jews faced in the German territories in the 19th century.
Dr Susanne Korbel, University of Gratz

In the mid-nineteenth century, one name dominated the operatic world: that of Giacomo Meyerbeer. The first Jewish composer to achieve international fame, Meyerbeer staged his grand operas in France. His second French work, Les Huguenots, became the first opera to reach 1,000 performances at the Paris Opéra.
Giacomo Meyerbeer was born in Berlin in 1791 as Meyer Beer, the eldest son of Jacob and Amalia Beer. As the Jews of Europe emerged from the ghetto in the upheavals of the Enlightenment and the Napoleonic Wars, Giacomo's wealthy parents took a leading role in creating a more integrated Jewish identity. Jacob Beer became a pioneer of Reform Judaism, while Amalia, a society hostess, held a glittering musical salon frequented by aristocrats, diplomats, and the stars of the artistic world.
Giacomo's brother Wilhelm, an amateur astronomer, built an observatory in the family villa, where he and his scientific partner, Johann Mädler, produced the first accurate maps of the moon and Mars. Their work is regarded as a milestone in the history of astronomy. In later life, Wilhelm became a railway entrepreneur, a banker and a politician.
The family's youngest son Michael was a dramatist and poet who died at the age of 33. Michael's third play, Der Paria, was admired by Goethe, who staged it at Weimar in 1824.
This biography reveals the story of a remarkable family, who fought prejudice and intolerance to become role models for their contemporaries, and whose lives illuminate a crucial and formative period in German-Jewish history.
---
Paper 300 pages  10 black and white illustrations

Copyright: 21/7/2021