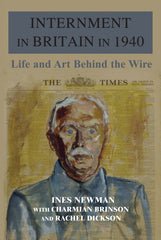 Internment in Britain in 1940
Life and Art Behind the Wire
Newman, Ines with Brinson, Charmian and Dickson, Rachel

This remarkable book gives a unique insight into the press-inspired panic which propelled the forced internment of so many anti-Nazis refugees.
David Glasser,
Chair, Ben Uri Gallery and Museum
When the artist Hugo Dachinger asked to paint the portrait of inveterate diarist Wilhelm Hollitscher a new friendship was born. Both men, refugees from the Nazis, were interned in the Huyton Internment Camp in 1940. However, they refused to let the experience daunt them, with Dachinger manufacturing his art materials from anything to hand and Hollitscher continuing his life-long habit of diary keeping. This book brings alive the experience of internment by combining the creative response of the two friends. Hollitscher's diary provides a vivid and fascinating account of daily life in the camp along with wider political comment, while Dachinger staged exhibitions of his work in the camp entitled Behind the Wire. Both men found being interned as an 'enemy alien' traumatic, but were able to draw moral strength from the experience. In particular, internment provided Dachinger with relief from having to generate income and gave him time to paint the oppression he saw around him. The context is set by three chapters. Professor Charmian Brinson writes about the history of internment and Churchill's shameful policy to 'collar the lot'; Rachel Dickson of the Ben Uri Gallery, elucidates Dachinger's work in the camp and Ines Newman, the granddaughter of Wilhelm Hollitscher, provides a portrait of her grandfather's background and life. The book reveals the true experience of life in captivity and is as relevant to today's injustices as it is an account of unjust treatment in the past.
---
224 pages, 8 page colour plate
Copyright: 26/11/2020