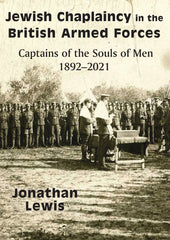 Jewish Chaplaincy in the British Armed Forces
Captains of the Souls of Men 1892-2021
Lewis, Jonathan
Field Marshal Montgomery famously said that the most important people in the army are the nursing sisters, who tell the men that they matter to us, and the padres, that they matter to God.
The first British Jewish chaplain, Reverend Francis Cohen, was appointed in 1892 and ministered in Britain. It was the vision and creation of Reverend Michael Adler, DSO, for commissioned Jewish chaplains to serve alongside soldiers in the field in wartime.At the age of 46, from 1915, Adler spent over three years on the Western Front.
Twenty Jewish chaplains served with the British Army in the First World War, and fifty-six Army and RAF chaplains, including twelve locally recruited in mandate Palestine, in the Second. They served in many of the vast theatres of both wars, travelling huge distances in search of widely dispersed Jewish soldiers.
Jewish chaplaincy consolidated the integration of a minority faith into the British armed forces. This ground-breaking contribution to British, Jewish, religious and military history is based upon years of research in Victorian archives, military records and family papers. Here, retired Judge Jonathan Lewis reveals the colourful and untold story of the British Jewish ministry at war, as well as of its military service in peacetime.
It is the story too of the many Jewish soldiers who, rarely if ever seeing a chaplain, brought each other such religious solace as they might. In the Second World War a Japanese captor intuited the role of chaplains as 'Captains of the Souls of Men'.
---
Hardback 444 pages 33 black and white illustrations
Copyright: 01/09/2022