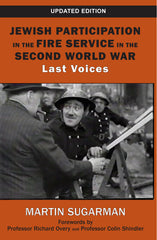 Jewish Participation in the Fire Service in the Second World War - Updated
Last Voices
Sugarman, Martin
Here for the first time is the account of the essential part played by Jewish personnel in the Fire Service in the Second World War.  

Ever civic minded, Jews from all social backgrounds were pre-war volunteers to be trained for dealing with the expected mass bombing of cities by the Germans. After war was declared, by 1940–1 many younger Jewish men and women volunteered or were called up to the armed services, whilst many who were too old or unfit for the military stayed on with the Fire Service.

This considerable number of Jewish firemen and women played a major role in the civil defence of Britain. Some won bravery awards, including the only George Cross – the highest civilian award for courage – won by a London Fireman during the war. Many gave their lives; this is their story.

The author has captured part of this extraordinary contribution of daring, effort and suffering through the use of archival material, books and personal 'Last Voice' interviews, while numerous, never-before-published, photographs illustrate and illuminate the text.


---
448 pages, 282 black and white photos

Copyright: 13/4/2023 New in paperback