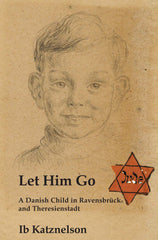 Let him Go
A Danish Child in Ravensbrück and Theresienstadt
Katznelson, Ib

2nd Editon
Ib Katznelson has written a remarkable and important book. Over the years I've probably read dozens of survivor accounts, if not hundreds. This one has impressed me as few others have. . Because the writing is calm and unemotional, because the judgements are so measured and the evidence is left to speak for itself, the underlying and implied emotions are communicated all the more powerfully.
Ben Barkow, Chair of the UK Holocaust Memorial Foundation's Academic Advisory Board
This is a powerful, extensively researched book by somebody who had the hardest start to childhood imaginable … It portrays all the chaos, cruelty, ambiguity and treachery interspersed with acts of kindness, luck and fortitude ... When recently asked if he had had a good life after all he said: "I could, and still can, answer that positively.
Janet Weston, AJR Journal
Sold, 21 Jews to the Gestapo for 600 kr.
That was the headline on the front page of EkstraBladet (a Danish daily newspaper) on Monday, November 19th, 1945. The article was about two informers the police had arrested. They had informed the Gestapo that a Jewish escape to Sweden would take place in the evening of 4th October 1943 from the Chemical Factory at Amager Strandvej. Those Jews included the two-year-old Ib Katznelson and his close family.
Ib became aware of the article in 2010 and began an intense search for a past which he did not consciously remember. He looked for witnesses, documents and camps. Gradually his mother opened up and talked about the struggle for their survival in Ravensbrück's and Theresienstadt's brutal environments, about the desperation and the hope that left her. But also about the reunification with other family members in Theresienstadt and with Ib's father who survived the concentration camp Sachsenhausen.
This Nazi raid captured more Danish Jews in one go than any other, bar those Jews captured in the raid on the church attic in Gilleleje. While the action in Gilleleje has been discussed and examined a number of times, Katznelson is the first to thoroughly analyse what happened at the Chemical Factory, filling an important gap in the historical record.
Ib relates his, his mother's and father's stories, along with those of others in the camp by means of testimonies, letters and historical documentation.