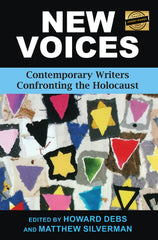 New Voices
Contemporary Writers Confronting the Holocaust
Debs, Howard and Silverman, Matthew (Eds)
This remarkable volume at once offers snapshots from history and captivating, and at times inspiring, lyrical responses to an event we are still seeking to understand — and one we're trying not to repeat.
Jewish Book Council
New Voices is ground-breaking.
European Association for Jewish Studies
The aim to incorporate cognitive science in the
New Voices
project is most worthy and should certainly be pursued.
Paul Vincent
, Professor Emeritus, Holocaust & Genocide Studies Keene State College
Part of what art is doing is different from what photographs [alone] do. It's different from what visits to the sites of atrocities do because it's creating forms that have to be reassimilated by individuals, it is creating an event that happens inside [each person].
Joy Ladin
, former Ruth Gottesman Chair in English at Stern College of Yeshiva University
As a Holocaust survivor, I am deeply concerned with the survival of the memory of this catastrophic event. It is my conviction that survival of any historical event can be assured only when such events become transformed into various forms of art.
Anna Ornstein
, Professor Emerita of Child Psychiatry, University of Cincinnati
New Voices is ground-breaking. The editors selected 58 distinct images from noted collections consisting of vintage photography, propaganda posters, newsreel stills and the like, matching each to a poet, short story or flash fiction writer, plus features by essayists as well. Each writer interpreted these 'silent witnesses' from the period in their own unique way, creating new perspectives for our times.
The book includes four parts: Part I covers the rise of Nazism and heightening antisemitism. Writers focus on key events such as the Beer Hall Putsch, the Berlin Olympics, the Kindertransport project, the voyage of the MS St. Louis and Kristallnacht. Part II revolves around forced labor, ghettos, and extermination, dealing with such topics as death squads, the 'final solution' and collaborators like the French Vichy government. Part III is all about escape, rescue, and resistance, including the remarkable Danish rescue of its Jewish population, the Warsaw ghetto uprising, the Sobibor revolt, shedding light on heroes and resistance fighters plus the Ringelblum Archive an important example of cultural resistance. Part IV deals with the aftermath, tackling the liberation of concentration camp prisoners, the refugee crisis, the 'Exodus 1947', Nuremberg trials and UN Vote to Partition Palestine.
Together this diverse group, including writers of color, Christian, Jewish, Muslim, LGBTQ, prominent and emerging writers, from around the world have contributed a powerful body of work, based on the Holocaust, that challenges worrying international trends of xenophobia, anti-democratic movements and alternative truths by recognising the power of art to portray truth.
Publication date 18th April 2023  Paperback
240 pages  58 illustrations paperback