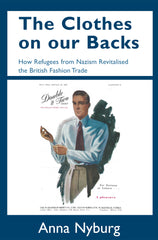 The Clothes on our Backs
How Refugees from Nazism Revitalised the British Fashion Trade
Nyburg, Anna
Jews had long been active in the clothing trade in Europe, developing new production and retail methods and excelling as designers. However, in the UK clothes production was mostly conservative and design was not a concept. What happened to these Jews in the clothing industry after the Nazis came to power in 1933, bent on ridding Germany of Jews? Many found asylum in Britain, where soon the refugee owners of Kangol and other firms were employing thousands of British workers at a time of dreadfully high unemployment. And when war broke out, it was Kangol who made the berets for the British army and other forces.
British companies started to recognise what the refugees could offer: Pringle of Scotland for one could see the benefits of hiring an Austrian refugee designer, their first. It was he who thought up the twinset which became a huge commercial success. The refugees brought new technology, new display methods, a different attitude to export and much more. It was no wonder then that by the end of the war the refugee clothiers were recognised as having made a disproportionate contribution to the    economy Just one who was honoured was Miki Sekers, who was made an MBE in 1955 for services to the fashion industry.
Additionally, to show their gratitude to the land that had saved their lives and given them hope, several became major patrons to the British arts scene. Harry Djanogly, supplier of clothing to M &S and a major donor to medical and educational projects also, was knighted for his services to philanthropy in 1993. Here Anna Nyburg tells their stories.
280 pages, 50 b/w and 10 colour illus
copyright 17/02/2020 New in Paper 20/10/2021