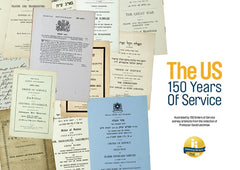 The US: 150 Years of Service
llustrated by 150 Orders of Service and key artefacts from the collection of Professor David Latchman
United Synagogue
Divrei Bracha from Chief Rabbi Ephraim Mirvis
Message from Michael Goldstein, President of the United Synagogue
For 150 years, The United Synagogue has marked key events such as births, memorials, wars and Jubilees with services of thanksgiving, intercession and celebration. Now, Professor David Latchman has allowed us into his unique collection of Judaica, to shed light on these events. The US: 150 Years of Service opens a window into the community which has never been seen in its entirety before.
The United Synagogue, established by an Act of Parliament, is the bedrock of the Anglo Jewish community. Orders of service contain prayers said in synagogues to commemorate someone or something: a memorial for a person, opening a building or, indeed, a royal occasion. In this ground-breaking book you will find a selection of rare Judaica, the order of service marking the Diamond Jubilee of Queen Victoria, the coronation of King George VI or the end of World War II.
These 150 unique orders of service are grouped by theme: Monarchy, Chief Rabbis, Lifecycle, Religious Life, Persecution and War and Israel and Zionism. In the book, you can see letters to Montefiore concerning prayers of thanksgiving following the attempted assassination of Queen Victoria, Chief Rabbi Hertz standing in the bombed ruins of the Great Synagogue and the kosher china used on Cunard transatlantic liners.
As a reference volume or just a delight to read and reflect on a century and a half of the United Synagogue and its unique position in British society, The US: 150 Years of Service, is a very special book.

---
144 pages, 339 illustrations
Copyright: 9/103/2021