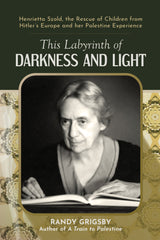 This Labyrinth of Darkness and Light
Henrietta Szold, the Rescue of Children from Hitler's Europe and her Palestine Experience
Grigsby, Randy

Randy Grigsby has a knack for making history come to life in his books.
Tom Arceneaux, Attorney, Associate Hadassah Lifetime Member, AIPAC Activist
It is history shared with the gift of accuracy and compassion; a reminder of the mark that one person might make in history.
Alston Johnson, Dean at St. Mark's Cathedral Shreveport, Louisiana
Drawing on Henrietta Szold's letters and diary entries, and extensive research and historical sources of that time in Germany and Palestine, This Labyrinth of Darkness and Light is a powerful narrative and spellbinding rescue story, that brings to life one of the darkest and yet most inspirational chapters in Jewish history.
Szold was seventy-three, founder of Hadassah, the Jewish Zionist women's organization, when she was appointed to direct Youth Aliyah, and over the next decade, transported over twenty thousand Jewish children from Nazi Europe to the safety of Palestine, a feat that she later considered the greatest triumph of her memorable career.
David Ben-Gurion, the first prime minister of Israel, called Szold 'the greatest Jewish woman in 400 years.'
Labyrinth is the unforgettable story of Szold's stamina and courage as she battled her greatest adversary, mass murderer Adolf Eichmann, for the lives of innocent children caught in the maelstrom of Nazism. Here, Grigsby recreates the unforgettable story of lost heroes. Not only Szold, who made three perilous trips to Berlin during the 1930s under the watchful eye of the Gestapo, but also Hadassah operatives and members of Youth Aliyah stationed throughout Europe, who lived under constant danger, and many of whom gave their lives for the rescue mission.
Szold would live in Palestine until her death in February 1945.
---
Paperback 335 pages, 20 b/w illus
Copyright: 14/09/2022