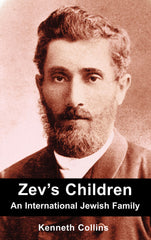 Zev's Children
An International Jewish Family
Collins, Kenneth 

This is the history of one family but it is also, in microcosm, the story of the Jewish people over the past two centuries. Kenneth Collins, the premier chronicler of Scottish Jewry ... encounters Communists and Zionists, businessmen and intellectuals, upright citizens and endearing eccentrics. Collins writes about them all with verve, insight, and gentle humanity. Bravo!
Bernard Wasserstein, Emeritus Professor of Modern European Jewish History, University of Chicago

I have never come across a family as widely dispersed, with as many branches, and with such a variety of very different experiences and careers. Equally, it is a little unusual to find an author who has kept in touch, or managed to establish touch, with all the branches of his family. The result is a fascinating set of family portraits.  
Professor Aubrey Newman

Kenneth Collins, the leading chronicler of Scotland's Jews, and a medical historian, tells the story of his family from its origins in Ukraine in the first half of the eighteenth century. He follows the descendants of his great-grandfather Zev Kagarlitsky in Russia, America, Argentina, France, Israel, England and Scotland. Zev was born in a village near Kiev in 1854 and died in Tel Aviv in 1931.
There is a cast of colourful characters including Marxists in Russia, a Holocaust survivor in France, an unexpected death of a Soviet commercial agent in London, early Zionist pioneers and businessmen in Scotland and America.
Collin's grandfather arrived in Glasgow in 1912 and he explores the family integration into the business and professional life of Scotland's largest city, and home of most of its Jewish community.
The book uses archival research in four continents, genealogical connections and oral history to tell a story of a family whose experience mirrors Jewish life over almost three centuries. This is a warm and lively account of an international family that has succeeded in maintaining close links over succeeding generations, from Buenos Aires to Moscow and from the West Coast of the United States through Glasgow and London to Jerusalem.
---
Paperback 200 pages, 28 b/w illus

Copyright: 18/11/2021